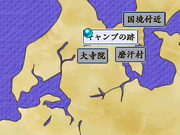 Camp Ruins (kyaanpu no ato) is one of the places in Fushigi Yuugi DS and Suzaku Ibun. It is located in Sairou. It is an important place, and it has to be visited (four times) in order to get the Staying behind ending in both games.
Ad blocker interference detected!
Wikia is a free-to-use site that makes money from advertising. We have a modified experience for viewers using ad blockers

Wikia is not accessible if you've made further modifications. Remove the custom ad blocker rule(s) and the page will load as expected.