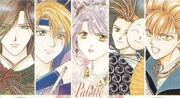 Fushigi Yuugi's "Light Novels", known originally in Japanese as "Gaiden"( 外伝 ), which can also mean "side stories", were written by Megumi Nishizaki and illustrated by Yuu Watase.There are thirteen of them and only nine describe the lives of the Celestial Warriors (All of the Suzaku and a few of the Seiryuu) before they were seen in the manga. Two are set after the manga, the 7th and 8th which are known as "The Legend of Eternal Light: First Volume" ((永光伝上巻) Eikouden Joukan) and "The Legend of Eternal Light: Final Volume" (( 永光伝下巻 ) Eikouden Gekan). The third OVA series was based on these two novels. The final two are known as "Sanbouden".
All were published by Shogakukan and not a single one has been liscensed in English.
Pages in category "Light novels"
Ad blocker interference detected!
Wikia is a free-to-use site that makes money from advertising. We have a modified experience for viewers using ad blockers

Wikia is not accessible if you've made further modifications. Remove the custom ad blocker rule(s) and the page will load as expected.