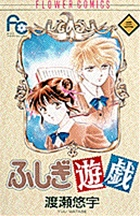 Fushigi Yuugi's 3rd volume is titled
Disciple.
Statistics
Japan Release Date: November 26, 1992
English Release Date: June 1, 2004
Chapters
This volume includes the following chapters:
013: "The Invisible Enemy"
014: "Let me Protect You"
015: "Captive Women"
016: "The Priestess of Seiryuu"
017: "Souls Drifting Apart"
018: "Only You"
Ad blocker interference detected!
Wikia is a free-to-use site that makes money from advertising. We have a modified experience for viewers using ad blockers

Wikia is not accessible if you've made further modifications. Remove the custom ad blocker rule(s) and the page will load as expected.