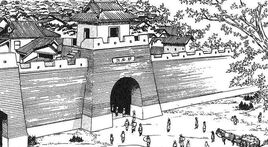 Eiyou, The actual capital of Konan, where the palace is situated. The Chou Family (Nuriko, Rouko, and Korin) are also from this city, and their parents run a successful fabric store in the textile quarter. The capital city is evidently one of the prosperous kinds, since almost all the civilians here have successful lives. However, accidents occur in the streets. The most vivid sorts of people are found here, from cross-dressers to drags and kids and traders.
Ad blocker interference detected!
Wikia is a free-to-use site that makes money from advertising. We have a modified experience for viewers using ad blockers

Wikia is not accessible if you've made further modifications. Remove the custom ad blocker rule(s) and the page will load as expected.