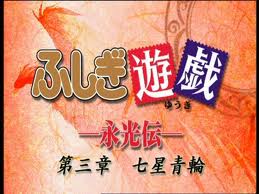 Fushigi Yuugi Eikoden is the
third OVA
. It takes place roughly ten to twelve years after the original storyline. The four dead Suzaku Warriors have been reborn as children, Taka, Tasuki and Chichiri have a new mission: find the children and reunite the Suzaku Warriors to save Konan from a new evil sweeping the land.
Mayo Sakaki, the new priestess of Suzaku, is manipulated by this evil force and the warriors encounter many difficulties because of that. She selfishly wants to keep Taka for herself, along with his and Miaka's baby, transported by Miaka into Mayo's womb as the new Shinzaho.
Ad blocker interference detected!
Wikia is a free-to-use site that makes money from advertising. We have a modified experience for viewers using ad blockers

Wikia is not accessible if you've made further modifications. Remove the custom ad blocker rule(s) and the page will load as expected.