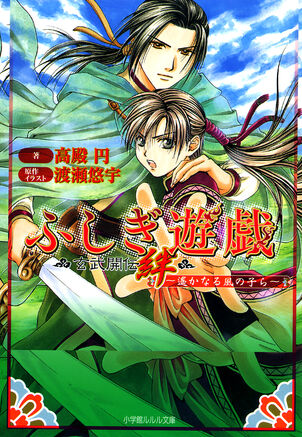 Fushigi Yuugi Genbu Kaiden: kizuna ~ harukanaru kaze no kora~
(roughly translated as
Fushigi Yuugi Genbu Kaiden: The Bond ~ Distancing the Wild Creatures ~
) is a novel of the prequel series
Fushigi Yuugi Genbu Kaiden
drawn by
Yuu Watase
. The story of the novel is written by Takadono Doka and was released on May 30,2008 by Shogakukan, LuLuLu, and Bunko. It has 244 pages.
There are two editions of this novel: a regular edition, and a special edition. The special edition has a different cover, and includes a 20 minute drama CD. They both contain the same text and the same illustrations. It tells the story of Soruen Wakaosa and Limdo Rowun .
Summary
Among the people of the grass-covered plains of the country Sairou, Wakaosa Soruen of the Baku tribe lives each day among the wind and the horses. One evening, his father Tauru goes to the country Hokkan to take the crown prince Rimudo away. Although Soruen wants to welcome in this young boy, for some reasons Rimudo is unwilling to accept him. One day Soruen is forced to become Rimudo's mentor as they embark on a dangerous and harsh journey. This is the story of the deep bond that forms between them.
Ad blocker interference detected!
Wikia is a free-to-use site that makes money from advertising. We have a modified experience for viewers using ad blockers

Wikia is not accessible if you've made further modifications. Remove the custom ad blocker rule(s) and the page will load as expected.