Welcome to the Fushigi Yuugi Wiki
A Wiki dedicated to everything about the Manga and Anime Fushigi Yuugi created by Yuu Watase. This Wiki aims to archive F.Y. and all related material. Please help us by creating or editing any of our articles! We are currently editing over 430 Articles on this wiki since Taiitsukun has brought out her giant hammers.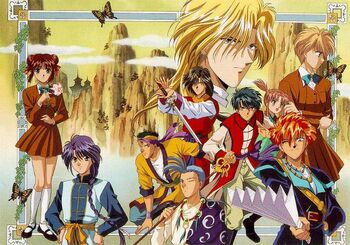 Middle-school student Miaka Yūki feels a lot of pressure to pass the entrance exam for the competitive Jonan Academy. Her friends do not believe she will get in, but she is determined to because her best friend, Yui Hongo, has applied for the same school and she wants them both to go to the school together. While at the library one day, Miaka and Yui encounter a strange book known as The Universe of the Four Gods. As a result of reading this book, they are then transported into the novel's universe. However, Yui is transported back to the real world almost immediately. Inside the novel Miaka discovers that she is the Priestess of Suzaku and destined to gather the seven Celestial Warriors of the god Suzaku in order to summon Suzaku and obtain three wishes. She falls in love with the Celestial Warrior Tamahome, who eventually reciprocates and Miaka's desire to use a wish to enter the high school of her choice begins to shift towards finding a way to be with Tamahome. Yui, who is also drawn into the book when she was trying to help Miaka to come back to the real world, becomes the Priestess of Seiryuu, working against Miaka out of jealousy over Tamahome and revenge for the humiliation and pain she had suffered when she first came to the book world. Source: Wikipedia
Note: these newest articles might not yet meet our quality standards, so please help them out and ensure that they don't duplicate existing efforts.
Loading RSS data...
Before editing, please make sure to read our Policy and Manual of Style.
There are many ways you can help this wiki. When writing a new article, check the contents are not already published in another page. Some tasks in-progress follows:
Edit the Timeline of Events Page
Write the plot summaries for characters
Write the plot summaries for episodes and chapters
Clean-up of existing articles
Information about the Games
Contact the admin for any questions.
Among the enormous number of authors and artists in the manga world, Watase is one of the most well-known and most famous; particularly for Fushigi Yuugi and Ayashi no Ceres. Yuu Watase is the manga author and writer of Fushigi Yuugi, the mysterious play. Yuu Watase wrote more than 80 compiled volumes and short stories since she wrote her debut short story, "Intrusion in pajamas", and her works take up the shojo category in majority. She also won the Shogakukan manga award, and is currently 40 years old. Almost all of her mangas are ongoing; and among them is Fushigi Yuugi Genbu Kaiden. Her only single shonen manga is named Arata Kangatari. Because of her frequent use of beautiful male characters in her works, she is widely regarded in circles[which?] as a bishōnen mangaka.[citation needed] In October 2008, Watase began her first shonen serialization, Arata: The Legend in Weekly Shōnen Sunday. Her name is romanized as "Yû Watase" in earlier printings of Viz Media's publications of Fushigi Yūgi, Alice 19th, and Ceres, The Celestial Legend, while in Viz Media's Fushigi Yūgi Genbu Kaiden and Absolute Boyfriend her name is romanized as "Yuu Watase". In Chuang Yi's English-language versions of Fushigi Yugi (spelled without a macron or circumflex), her name is romanized as "Yu Watase".
News

November 14, 2012: Genbu Kaiden Chapter 39 - Genbu is summoned!
August 2012: Genbu Kaiden Chapter 38
November 2011: Genbu Kaiden Chapter 36
October 2011: Yuu Watase on 4 month hiatus: Fushigi Yuugi Genbu Kaiden's 36th chapter will be released
June 24, 2011: Genbu Kaiden vol. 10 is released, featuring a a cover revealing that Filka has blonde hair
June 14, 2011: Genbu Kaiden chapter 35 is released, revealing Temudan's reign and that the prophecy of his murder by Uruki is fake.
February 24, 2011: Genbu Kaiden chapter 34 is released.
November 11, 2010: Genbu Kaiden chapter 33 is released, Watase announces a new fanbook Hoshi no Rasen

Latest Chapters

Note: No English Translations Available, so the content below may or may not be correct or is likely to change. Please take everything with a grain of salt.

-Spoilers follow below-

The Kutou Army advances, but the Genbu Seven are able to hold them back. In the midst of the fighting, Hokkan is attacked with hail and frost, injuring many people and tearing down the houses. Realizing that the Hokkan Ice Age has commenced, Takiko gathers the warriors and tell them that they will be summoning Genbu to stop everything.

Explore more content

Manga • Anime • Characters • Light Novels • Games • Locations • Image Galleries

Related Content

Links and Affiliates

Random Quote of the Moment

"In the end, is saying goodbye all I can do?"
―Takiko

Installations
Ad blocker interference detected!
Wikia is a free-to-use site that makes money from advertising. We have a modified experience for viewers using ad blockers

Wikia is not accessible if you've made further modifications. Remove the custom ad blocker rule(s) and the page will load as expected.