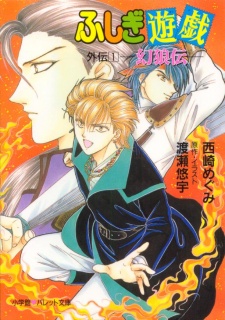 Genro Den (The Legend of the Phantom Wolf ) is a Fushigi Yuugi light novel by Yuu Watase and Megumi Nishizaki. It tells of Tasuki, Kouji, and the story of how Hakurou, the previous leader of the Mt. Reikaku bandits, died.
Story Outline
This light novel is Tasuki's story, from his running away from his home and family to his joining the Mt. Reikaku bandits to his proving himself as future leader of the bandits . His connection Kouji is explained in great detail, as well as the nature and identity of the old boss whose death is mentioned in the original manga sequence. Genrou is Tasuki's nickname which means phantom wolf, and he's given this on account of his speed and his tenacity. Genrou Den also introduces the rival bandits of Mt. Kaou and their slightly perverted leader, Kieron. There's also a young girl named Reirei who wants to fight with the Mt. Reikaku bandits and in the end, gives her life to try and help Tasuki and Kouji succeed in defeating the demon Dokoro.
Ad blocker interference detected!
Wikia is a free-to-use site that makes money from advertising. We have a modified experience for viewers using ad blockers

Wikia is not accessible if you've made further modifications. Remove the custom ad blocker rule(s) and the page will load as expected.