Houko (
Wandering Aimlessly
) is
Nakago
's third theme song.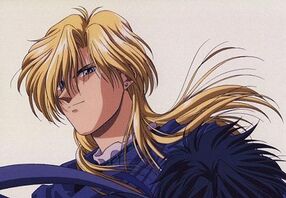 This is sung by his Japanese voice actor, Furusawa Tohru.
Lyrics
Japanese

fukai yami to tomo ni ikiteru kizudarake no kokoro wa tsurugi
ware ni shitagau mono igai chikazuku koto wa yousha shinai

ushinau mono hitotsu nai kara osore no nai buki wa surudoi
gareki no machi o neriaruku hamukau kizashi uchikudaite
tatakau sasurau soshite nemuru senshi no kokoro ni ai wa iranai

warera no jisho ni make wa nai yabureru toki wa hateru inochi

tatakau sasurau soshite nemuru shouri no michi shika tsune ni iranai
tatakau sasurau soshite nemuru yasuragi hohoemi ima wa iranai

English translation

I live together with the darkness. My wounded heart is my sword.
I care only for those who do my bidding.

Since I have nothing to lose, my fearless weapon is sharp.
I march through the streets filled with debris, and smash any sign of opposition.

I fight, I wander, and then I sleep. A soldier's heart needs no love

I know not the meaning of the word "defeat". Only when I am crushed will I die

I fight, I wander, and then I sleep. Victory is the only path that must be taken.
I fight, I wander, and then I sleep. Peace and happiness are useless to me now.
Ad blocker interference detected!
Wikia is a free-to-use site that makes money from advertising. We have a modified experience for viewers using ad blockers

Wikia is not accessible if you've made further modifications. Remove the custom ad blocker rule(s) and the page will load as expected.