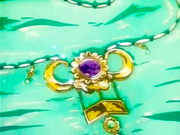 Shinzaho
(Holy Throne)
is an artifact that is required to summon a beast god. The artifact has many versions. It is arguably the base topic of
Fushigi Yuugi
's second season since the other half of the series mentions it a lot.
Artifact
Genbu
The Shinzaho of Genbu first appears in the series. It is located in the capital city of
Hokkan
,
Touran
. It is
Oracle Anlu
's parting gift is a key artifact in Takiko's quest to summon Genbu: not only is it able to detect where the remaining Celestial Wariors are, but it eventually becomes one of the Shinzahos Miaka requires in order to summon
Suzaku
. In Fushigi Yuugi: Genbu Kaiden, it was stated that the shinzaho had Takiko's last wish held in there.
Byakko
It is the hand-mirror Suzuno had when she entered the world of the book. It is guarded by Tatara after Suzuno leaves the world, and sprouts out in a seed that is in Tatara's ear that he puts on like an earring and the Shinzaho appears as if it is blooming.
Suzaku
Miaka's Shinzaho is first revealed in the first OVA as the ring she wore when she and Tamahome had an unofficial wedding. Miaka had a second shinzaho which was revealed in Fushigi Yuugi Eikoden as her and Taka's unborn child. The second Shinzaho happened because in the second OVA, it was shown that she and Tamahome once again called Suzaku to completely seal Tenkou away. Mayo's "shinzaho" was the ring on her finger.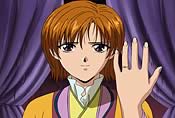 Seiryuu
The Shinzaho of Seiryuu is revealed in Fushigi Yuugi Novels: Sanbou Den (The Legend of the Three Talisman), it is the teardrop earring from the summoning ceremony of Seiryuu. Nakago's spirit is the guardian of the Seiryuu's shinzaho.
Ad blocker interference detected!
Wikia is a free-to-use site that makes money from advertising. We have a modified experience for viewers using ad blockers

Wikia is not accessible if you've made further modifications. Remove the custom ad blocker rule(s) and the page will load as expected.