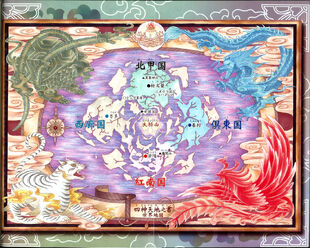 If you are referring to the book itself, please go to The Universe of the Four Gods.
"......Sairou's administration is constantly changing, Kounan's land is much too small and besides, the government there is too lenient in terms of its regulations. Both are too unstable for taking in such a large amount of citizens at once."
—Temudan Rowun
The Universe of the Four Gods is the world where Miaka and Yui were transported, written by Takiko Okuda's father, Einosuke Okuda. while the only first priestess is Okuda Takiko who opens the book and became the first Priestess of Genbu.
Setting
Ad blocker interference detected!
Wikia is a free-to-use site that makes money from advertising. We have a modified experience for viewers using ad blockers

Wikia is not accessible if you've made further modifications. Remove the custom ad blocker rule(s) and the page will load as expected.