"Why?! Why did you not just let go of me?! If you would've just let go, then you would have lived a normal life...Then YOU WOULD NOT HAVE DIED!"
—Uruki
The incident in Oroko Valley refers to the tragic death of Soruen Wakaosa. Soruen, held prisoner, alone and surrounded by thousands of Kutou solders and desperately hoping that Rimudo will not come, fights. Fights to distract them, fights to honour his father, Rimudo, and himself, fights to take down as many of those soldiers as he can. By the time Rimudo realises what has happened, it's too late, Soruen has sustained fatal injuries. Soruen then ignites his armour laced with gun-powder, and takes his own life, destroying his entire body in the process.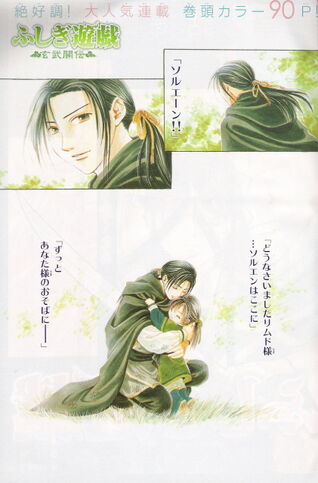 Rimudo is Not Happy. It's not until a special ceremony is held by members of the Urudai tribe that Rimudo is able to stop grieving, and rest assured that Soruen's soul has passed on.
Ad blocker interference detected!
Wikia is a free-to-use site that makes money from advertising. We have a modified experience for viewers using ad blockers

Wikia is not accessible if you've made further modifications. Remove the custom ad blocker rule(s) and the page will load as expected.