"You can't mention that to anyone!"
—Yunsa to Takiko, about Temudan's picture in her mirror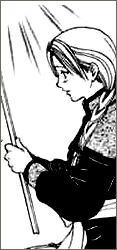 Yunsa
(Yansa)
is a brothel madame from
Fushigi Yuugi Genbu Kaiden
, and a friend of both
Shunu
and
Tarma
. She finds Inami helping Takiko in the streets of
Touran
, and lets them stay at her home. She thinks Takiko would attract a lot of customers, however she respects that Inami is protecting her and is unwilling to sell her. She and Inami have a comfortable friendship despite not seeing each other for years.
In her youth, she had a crush on Lord Temudan, whom she respected and admired. She secretly supports him and despite his illness would like to see him take the throne once again. She is also the one who tells Takiko about Temudan's reign.
Ad blocker interference detected!
Wikia is a free-to-use site that makes money from advertising. We have a modified experience for viewers using ad blockers

Wikia is not accessible if you've made further modifications. Remove the custom ad blocker rule(s) and the page will load as expected.